It's the school holidays again! If you have not planned anything for your kiddos this September holiday because you want them to cramp for end of year exams, do consider giving them a short breather in Kuantan!
We went there in June 2017 and even as adults, it was quite an eye-opening and relaxing trip 🙂
Our 3D2N Kuantan Road Trip Itinerary
Day 1
0630-1500: Travel to Kuantan 
Food places you can stop by to have something to eat:
Mersing
Restoran Ee Loo

24 Jalan Dato Mohd Ali

, 

Mersing 86800, 

Malaysia

Loke Tien Yuen Restaurant

No. 55 Jalan Abu

, 

Mersing 86800, 

Malaysia

Mersing Seafood Restaurant

Sometimes closed during lunch

56 Jalan Ismail

 | 

86800

, 

Mersing 86800, 

Malaysia

71 coffee and cafe

For those who want some western food and don't mind a further drive

365 Jalan Ismail

, 

Mersing 86800, 

Malaysia
Bentong
Kow Po Coffee Shop

2 Bentong Heights, Bentong 28700, Malaysia
+60 9-222 1258
Specializes in homemade ice cream and ice kachang
Famous in the area

Tong Kee Coffee Shop

4, Jalan Chui Yin, Bentong, Pahang
Got normal hawker food like wanton mee
Oldest coffee shop in Bentong
Try famous 1+1 drink, 6 minute egg, ice butter toast

Yuen Kee Cafe 源记茶餐室

57 Jalan Chui Yin, Bentong 28700, Malaysia
+60 12-946 8406
Famous wanton mee is here
1500-1600: Hotel Check in
We stayed at Hotel Zenith which is right opposite East Coast Mall (the largest mall in Kuantan) at a really good price! (it is considered more expensive than the rest of the boutique hotels but it is right opposite the mall!)
That's our hotel room view!
1600-1900: Go to the beach 😀 Teluk Chempedak
Pantai Teluk Cempedak, 25050, Pahang, Malaysia
Activities to do:

Watch monkeys (beware, do not carry food or drinks)
Walk along pedestrian bridge to Telok Tongkang
There is affordable paid parking at the beach (very hard to find parking on weekends)

Can consider having dinner here
Travelling time ~20 mins by car
Le monkeys were everywhere (and le parents had tons of fun telling us how cute they were). There are big fat mosquitoes there so do use insect repellent! Also, the crabs are super cute on the beach.
This slideshow requires JavaScript.
We randomly found a durian puff place near the beach carpark so we stopped to eat some! It was so-so la…
This slideshow requires JavaScript.
1900-2000: Dinner
Can eat at the beach
Can eat at the night market
Can choose any restaurant listed below
2000-2130: Night market
As it was hari raya eve, the whole place was closed! 😦
Night markets in Kuantan that you can visit:

Riverside (near Taman Gelora) on Sunday
UTC car park in the middle of town (near the stadium) on Saturdays

Jalan Stadium, Pasar Besar Kuantan, 25000 Kuantan, Pahang, Malaysia

Indera Mahkota 2, behind the Tengku Ampuan Afzan mosque on Fridays

MASJID SAIYIDINA ALI BIN ABI TALIB MASJID TENGKU AMPUN AFZAN INDERA MAHKOTA,, Lorong Indera Mahkota 1/10, Bandar Indera Mahkota, 25200 Kuantan, Pahang, Malaysia
2200: Snoozing time back in hotel 😀
25/6/17- DAY 2
0500-0530: Prepare to leave hotel for sunrise hike!
0530-0830: Sunrise hike at Panorama Hill
So pretty right!!! 🙂 
Image above from Travelled Paths.com
How to go: http://euniceta.blogspot.sg/2009/04/directions-to-bukit-panorama-sg-lembing.html
We did not actually go to bukit panorama as one party of our group was over 60 years old and did not want to go.
Click here to see a good blog that detailed their hike: http://dizzyzizzy.blogspot.sg/2014/03/sunrise-at-bukit-panorama-aka-panorama.html
Must have torch light
Check sunrise timing
Hike takes around 1 hour to get to the top
Park at food court
The correct stairs are the ones LEFT of the one shown in the blog
0830-0900: Breakfast @ one of the coffee-shop/Hawker where car is parked
0930-1130: Sungei Lembing Underground Tin Mine
When we went to Kuantan, it was a Hari Raya weekend and hence it was closed 😦 But personally, I think it would have been a great experience for kids (and suaku adults like me)
Tutup lah 😦 
Read about the tin mine experience here!
RM31.80 per adult, RM15.90 per child
1130-1230: Lunch @ Lembing Hawker Centre
Ah ding roast pork

Please go early! It sold out within 2 hours of opening D:
This is not at the hawker centre
A-259 Jalan Takar 26200 Sg Lembing Kuantan Pahang
Super famous

Lembing noodles

Can eat within hawker centre
8, 231, Sungai Lembing, 26200 Sungai Lembing, Pahang, Malaysia

Mountain water toufu

Sister fong's in the hawker centre

Hand-made duck noodles (where we ate!)

It is opposite the hawker centre at Lembing
Silkiest noodles we have tried so far with very good tea leaf egg and steamed sweet potatoes!
Other food to consider: http://alwaystravelicious.com/2016/06/29/things-to-eat-sungai-lembing/
Must buy souvenir: Coconut Biscuits

Do ask the vendors to let you try before deciding between the 3 brands

Shop at the Sunday morning market!

There is a mini pasar malam (or rather pasar pagi, haha) next to the hawker centre which sells quite a bit of local products including wood products, coconut biscuits, soy bean, etc.
There are a few wood workshops near the hawker centre which make use of this "Di Huang Mu" to make wooden display items, keychains and chopping board!
The chopping board was super good quality and a huge one is only 20/30RM (hello, 10SGD? BUY!!)
Apparently holding this piece of wood will make you more steady. LOL!
This slideshow requires JavaScript.
Before leaving the place, do take a few photos! Lembing is like a town that is stuck in time. It's architecture, people and way of living are all very old school!
This slideshow requires JavaScript.
1300-1430: Gua Charas
Famous for its reclining Buddha statue inside a cave
Parking is RM2, entrance fee is RM2
Jalan Gua Charas, 26090 Kuantan, Pahang, Malaysia

The route in is really like dirt road, so do drive slowly to prevent punctured tires

The climb up is also a bit scary for people with fear of heights
I would also not recommend anyone with Asthma or sensitive airways to visit as it is very smokey inside the caves due to the burning of incense
This slideshow requires JavaScript.
1500-1730: Pandan Waterfalls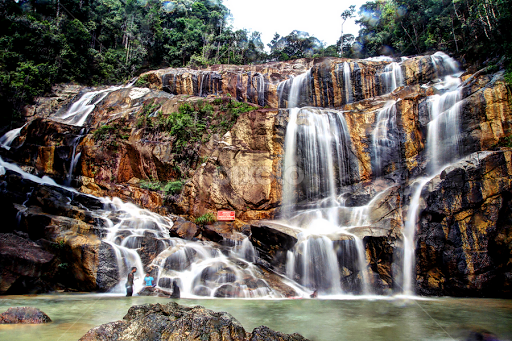 Image from gowhere.my
My bad luck continued during the trip and I did not get to see this at all! It was again, closed.
RM2 per person
Parking RM3
You can picnic there, or even have a swim there!
No trekking needed
How to go: Air Terjun Sungai Pandan, 26400 Kuantan, Pahang, Malaysia

The route in is also partially on dirt route, so do be careful!
1730-1800: Back to Kuantan!
We ended up going for a swim at our hotel pool to make up for our disappointments.
This slideshow requires JavaScript.
1800-1900: Dinner @ seafood restaurant 
1900-2100: Shopping @ East Coast Mall
Park at hotel and walk across to the mall
Mall has cinema and arcade also
Lanegie was quite cheap there surprisingly
Opening hours: 10am to 10pm
2100: Snoozing time 😀
26/6/17 DAY 3
0830-0930: Breakfast at one of the coffee shops listed below 
0930-1130: Travel to Batik place 😀
We did not go here as le-parents did not want to go. But I think it is really cool cause you get to make your own batik! 🙂
Check out this blog for more on batik experience
1130-1230: Taman Esplanade walk
Enjoy relaxing evening stroll at this boardwalk and take some photos with the huge KUANTAN sign 😀
Jalan Tanah Putih, 25100 Kuantan, Pahang, Malaysia
1230-1300: Buy local products home
Famous for whole Angkoli salted fish
Hasil Laut Kiah Kee (very hard to find)

Address: Batu 8, Jalan Gambang
Tel:+60 9-5382455

Or can try Jalan Besar (can see river)

16, Jalan Besar, 25000 Kuantan, Pahang, Malaysia
has alot of local product stores 🙂
This slideshow requires JavaScript.
1300-1400: Lunch
1400 onwards: Travel back to Singapore
List of recommended restaurants in Kuantan
Restoran Tong Juan
K-117, Jalan Sulaimani, Kampung Dusun Nyior, 24000 Kemaman, Terengganu, Malaysia
Famous for stuffed crabs and seafood
30-3.30, 6-10pm
Kawa Japanese Restaurant
Save No B-402 Jalan Beserah, Kuantan 25300, Malaysia
6095600032
12-3pm
Restoran Hai Tian
Lot 4748, Kuantan 25250, Malaysia
+60 9-514 4382
Behind shell, can pump petrol
Has curry prawn in coconut!
12pm – 12am
This slideshow requires JavaScript.
Sri Mahkota Seafood Restaurant
167-171 Jalan Haji Abdul Aziz, Kuantan 25000, Malaysia
Chinese food, famous for seafood
Dunno opening hours
Alor Akar Restaurant
Jalan Kubang Buaya | Off Jln Beserah, Kuantan, Malaysia
+60 9-568 0720 (can call to reserve)
Very famous for beggar's chicken and salted egg stuff
6pm to 12am
Beggar's chicken was sold out really early!
Satay Zul
Jalan Telok Sisek (J.Taman Kuantan Garden T-Junction), Kuantan, Malaysia
+60 9-568 7859
Famous for best satay in Kuantan!
30pm to 12.30am
Lila Wadi Restaurant
A637 Lorong Selamat 21 | Jalan Teluk Sisek, Kuantan 25000, Malaysia
+60 12-664 4054
5pm to 12am
Ana Ikan Bakar Petai
Tanjung Lumpur, Kuantan, Malaysia
+60 13-998 9175
Famous for seafood and coconut shakes
Only open for dinner
Something like todak, choose own seafood and style of cooking
30pm to 12am
Hai Peng Kopitiam
Jalan Haji Abdul Aziz, Kuantan 25000, Malaysia
Supposed to have very nice laksa?
9am to 5pm
Restaurant Hoi Yin
31 Jalan Teluk Cempedak, Kuantan 25050, Malaysia
6095673871
Famous curry noodle from Kuantan
Near the beach!
Open morning 7am until 2.30pm
Super duper nice curry noodles!!!
Restoran UK Loh
B-124, Lorong Galing 2 | Off Jalan Beserah, Kuantan 25300, Malaysia
Quite pricey by Malaysia standards
8am to 3pm
Old forest café
A393 3 Lorong Seri Kuantan | Jalan Beserah, Kuantan 25300, Malaysia
+60 12-988 6181
Got Chinese food
30am to 10.30pm
Sara Thai Kitchen
Jalan Teluk Sisek | Jalan Teluk Sisek, 25000, Kuantan, Kuantan District, Pahang, Kuantan 25000, Malaysia
Thai food
20pm to 11pm
Muar E Kopitiam Sdn Bhd
Jalan Beserah, Kuantan 25300, Malaysia
+60 9-567 9324
Famous for yam cake, kunyit rice and its coffee
Open from 7am to 5.30pm
90 Degrees Cafe & Art
B-882 Jalan Air Putih | 3. 830850, 103. 335965, Kuantan 25300, Malaysia
+60 9-505 5905
Normal café food
10am to 12am
16. Lily Kopitiam
1780-1802, Lorong Sekilau 30, Perkampungan Bukit Sekilau, 25200 Kuantan, Pahang, Malaysia
17. Restoran Seng Kong 
4120,, 4116, Jalan Kubang Buaya, 25250 Kuantan, Pahang, Malaysia
Other activities you can try:
1. Rainbow Fall Hike
https://shewalkstheworld.com/2016/04/05/my-malaysia-sungai-lembings-rainbow-waterfall/ 
2. Stay at cherating beach resort! (further up Kuantan)
3. Visit turtle farm
http://www.malaysiavacationguide.com/turtle-sanctuary.html
Another useful Kuantan blog post to read for families with kids:
http://www.mywanderingstory.com/2017/07/kuantan-for-first-time.html
That's about all I have for Kuantan! Overall, I would totally recommend going there for a short and budget trip!
Hope this one post can consolidate all the research you need for your trip to Kuantan! 🙂