Just went shopping at Koryo Mart at Lorong Kilat… and walked out feeling like an idiot because almost all the food I brought back from Lotte Mart in Korea was available in Singapore!!! (Although, part of me is rejoicing because it means I can have it anytime and anyday :D)
5 food/drink I should not have lugged back from Korea!
1. Crown butter waffles
This is like super super nice butter biscuits that tasted familiar yet new… Either way, if you haven't tried it, try it!
2. Orion fish!
This is a super chocolatey and soft sponge cake that is dense and not too airy.. super good!
3. Tteokbokki chips
AHHHHHH why did I not notice this before I went korea? I actually brought back 3 whole packs…
4. GS25 You-Us Ramen
Just when I thought it couldn't get any worse… There I saw packet forms of GS25 housebrand ramen?!?! WHY OH WHY. I tapao-ed so many cups of it home thinking it DEFINITELY ISN'T IN SINGAPORE. (Oh how wrong was I)
5. Woongjin Morning Rice drink
This is the only one where I went… OMG I THINK I AM GOING TO CRY :') My absolute favourite drink from Korea so much that I actually packed 3 bottles of it home in my luggage (checked in) and was rationing it so slowly (half a cup each time). Imagine my joy when I saw the big bottle in Koryo 😀 I came home and finished 250mls of it immediately 😀
I really think I shouldn't have spent so much time in Lotte supermarket trying to grab all these stuff off the shelves… Although there are a few stuff I bought which were not available in the Koryo I went to (I'm gonna exclude seaweed here):
1. Honey Citron Tea (this particular brand)
I didn't see it in the Koryo I went to but I brought like 3 huge packets and completely didn't regret. It's so convenient to make as a hot or cold drink (just pour cold water in!). Really tasty too 😀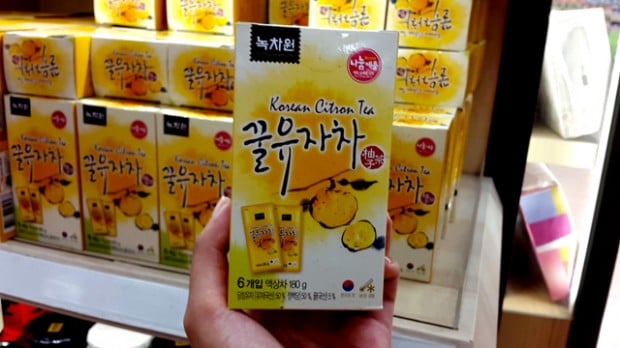 2. Binggrae Banana Flavoured Milk (bottle)
Blogging this at 12.30am just makes me miss it alot….. oh Binggrae.. (p.s. I think they do have the carton form but having it in this bottle is :D)
We are soooo damn lucky to have so many of these korean food in Singapore. 😀
I didn't actually do prior research as to which food to bring back.. so as the cliche holds true.. Fail to prepare, prepare to fail!